Santa M
eaghan's List

of Christmas Possibilities


1. I love stationery! So much. These cards are from
Making It Lovely
's indie-shop
Pink Loves Brown
. They're called "The Periodic Table of Sentiments" and they are absolutely quirky, beautiful, and expertly designed. Hb = Happy Birthday!? Genius. And frankly, while I don't heart Chemistry, I am kind of proud of myself for remembering that the periodic table is an important instrument in the study and practice of Chemistry. My high school Chemistry teacher, Mr. Frank, would be so proud.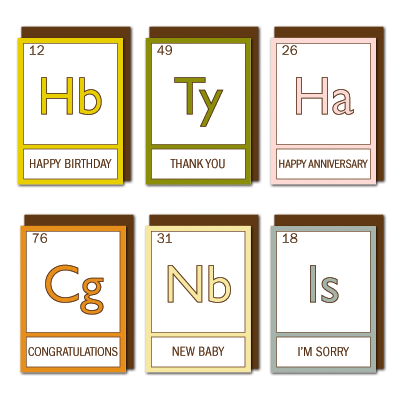 2. I found this photographer yesterday, while strolling around
Etsy
. Her shop is filled with some of the most whimsical, thoughtful and beautiful photography I've seen in a while. I'm most fond of photography when it involves things I see. That is to say, I enjoy seeing artists make the ordinary extraordinary. In this photo, she's taken an every day place,
The Library
, and made it so warm and interesting by using vintage-esque tones and taking a reverse shot of the sign. I love it. And all of her other work. Find her at:
AliciaBock
on Etsy.
3. When I first saw this artist's name, I got excited at the idea of Martha Stewart having an Etsy shop! But alas, not so. Instead, I've found this lovely hand crafted
Denim Glass Bird
by
Matthew Stewart
. He hand sculpts these beauties using traditional Italian techniques, and has them available in several colors ("reds, creams, blues, yellows" and any other color you might want). My sweetie's parents have bird nicknames for one another, so I was thinking this might be a sweet addition to the kitchen they're in the process of remodeling. They'll catch the warm sun in the new sitting area and be lovely handcrafted additions to the space.
4. I love dishes, bakeware and anything else that's relevant to a kitchen. Naturally, I was delighted when I stumbled across these. While not necessarily "handmade", they aren't exactly mass produced from what I can tell. I can't really resist them. They're the ingenious creation of
Lorena Barrezueta
, who has managed to mimic perfectly the old fashioned cheap-o aluminum serving dishes of grocery store fame.
The Curiousity Shoppe
has a great variety of these quirky porcelain dishes to choose from, and all would be a fantastic addition to your favorite cook's kitchen. They might even inspire a reluctant cook to get out there and create!
THE WRAP:
My Aunt, who spent a long while living in San Francisco and is especially fond of Japanese culture, always says that the presentation is almost more important than the gift. Naturally, given my obsession with stationery and all things paper, I have a strong love for gift wrapping. Here are a few wraps that I've come across so far this season:
5.
Hable Holiday Gift Wrap
from
Garnet Hil
l
is full of whimsy and fun. I especially enjoy the bright reds and blues, as well as the kraft paper designs. The Elf Boots and Peppermints are my particular favorites.
6.
IKEA
's
Isig gift wrap
is covered in jolly Scandanavian gnomes! It's a thick role for only $2.99 and, speaking from personal experience, it's a great paper for the price!
7. These
Joy letterpressed gift tags
are a perfect way to let your friends and family know that you:
1) Love them
2) Have amazing taste in letterpressed gift tags.
CarolLeeDesigns
over at Etsy. She's managed to create some of the most hilarious and curmudgeonly greeting card designs I've ever seen.
Misteltoe Schm
isteltoe
? Hahahaha!
ETA: I forgot to include th
is link to A Little Hut's first installment of her holiday gift-wrapping series. She's
created innovative and lovely gift tags and shares the step-by-step on he
r blog. Go ch
eck it out!