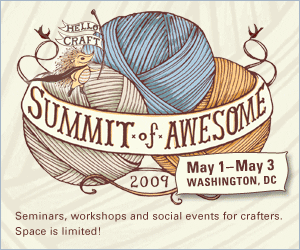 I remember my pal
Tina
telling me a few months ago that something amazing was on the horizon for the
Hello Craft
team, and that I should just keep my eyes and ears perked for the news! A few weeks ago, Hello Craft introduced
The Summit of Awesome
, a three day workshop-stuffed, speaker-filled, craftstravaganza located in our Nation's Capitol! How lucky are we!?
The Summit of Awesome will be situated in the U Street Corridor, a haven for indie business and entrepreneurship of all kinds. The event will feature the opportunity for attendees to attend speaking engagements, workshops, tutorials, discussion sessions, the DC premiere of Handmade Nation and SO. MUCH. MORE. I'm really excited about this event...in particular, the opportunity to cultivate community rather than selling my wares suits my unquenchable curiosity and desire to learn. I'm excited to meet and greet the people who keep the gears of this crafty world greased and moving at a rapid pace!
Here's the complete schedule of events you could attend!
Craftnotes:
Of course you won't want to miss these talks with -

Demos/Workshops:
Learn a new technique or make something awesome with guidance from our amazing speakers.

Learning Sessions:
The main part of the weekend is to learn and grow your crafty endeavors. And what better way then to learn from the people in the know?

Crafting a Green Craft with Jamie Chan and Blas Herrera - Urban Fauna Studio, Liz Grotyohann and Jeff Fein-Worton - Cosa Verde, Becky Streipe - Glue and Glitter
What's a Social Network and How to use it for Good with Danielle Maveal - Etsy Success & Virtual Labs, Willo O'Brien - Willo Toons
Craft Fair Booth Set up and Displays with Caitlin Phillips - Rebound Designs, Shauna and Stephen - Something's Hiding In Here
Event Sponsorship with Craftland
Am I a Business? How and when to form a business for your crafty endeavors with Cynthia Gayton and Paige Totaro - Volunteer Lawyer for the Arts
Street Teams. Why you should connect and collaborate with Jen Menkhaus and Megan Van Wagoner - B.E.S.T.
Branding and Identity with Jeffrey Everett - El Jefe Design
Developing a Product Line. Deciding what to make and sell with Ali Dryer - Pistol-Designs, Rebecca Juliette - This Chickadee
Navigating the Art world with Craft with Joetta Maue, Quincy Pearson, Sean Hennessey, Jaime Zollars

Selling in a Brick and Mortar with Urban Fauna Studios, Craftland
Consumption and Sustainability. How DIY will Save the World with Sara Cotner - $2000 Wedding, Autumn Wiggins - Upcycle Exchange
Selling Successfully Online with Danielle Maveal- Etsy Success & Virtual Labs, Liz Grotyohann and Jeff Fein-Worton - Cosa Verde
Tax Implications of Starting a Business with Michael Kreps and Paige Totaro - Volunteer Lawyer for the Arts
Organizing a Craft Fair with Al Hoff, Jessica Manack - Handmade Arcade, Christy Petterson - Indie Craft Experience
Going out on a Limb with Jeffery Everett - El Jefe Design, Kasey and Kelly Evick - Biggs & Featherbelle
The Ins and Outs of Trade Shows with Rania Hassan - goshdarnknit, Sean Hennessey, Rhonda and Elijah Wyman - Figs and Ginger
Copyright and Tradmarks, How to protect yourself and your work with Megan Gray
Customer Service. Crafting with a Smile with Caitlin Phillips - Rebound Designs, Rebecca Juliette - This Chickadee

Handmade Nation
You'll also have access to a screening of the D.C. premier of Handmade Nation, Faith Levine's long awaited film documenting the indie craft community.

Make Something Awesome Craft Area:
All weekend long, stop by the Make Something Awesome Craft Area and well, make something awesome. Have some down time between panels? Feel like decompressing? Socializing? This is the place to do it. Supplies and tutorials will help you on your way to making something awesome. Plus you can record your story for a future episode of the Hello Craft Podcast!

Handmade White Elephant
You might be familiar with this fun and sometimes funny holiday game. Well, be prepared to swap and trade your handmade goods at this fast and fun crafty version of this old favorite.
Add Hello Craft and The Summit of Awesome to your
Things to Check Out
list and make sure you register for The Summit of Awesome ASAP!
Registration prices are currently $150 and will go up to $180 on April 10 (this Friday).